We also have frequent social and fund-raising activities for our own upkeep as well as for a number of charities. These include Coffee Mornings, Lunches, Talks and Concerts.
Larger events include our Fete, and alternate years Open Gardens or Scarecrow Festivals, Exhibitions etc – all with refreshments and home-baking on offer!
Events St Mary's Church 2017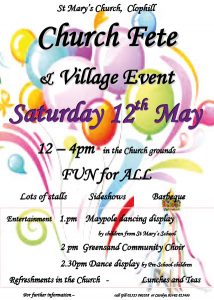 Entertainment     
1.pm    Maypole dancing display by children from St Mary's School
2 pm  Greensand Community Choir 
2.30pm Dance display by Pre-School children
Refreshments in the Church   –                Lunches and Teas
A Garden Party and Traditional Afternoon Tea
On Saturday 23rd June
at Aragon House, High Street
from 2.30pm
Everyone welcome. 
Garden games
 and refreshments included
Admission by Ticket
  £6  or Family ticket £15 for 2 adults and 2 children
available from Gillian 01525 860539