Deviations from our usual service times:
November Services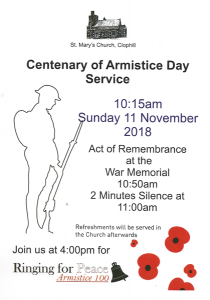 Sunday, 11th: 10.15 a.m. Remembrance Day Service
December Services
Sunday, 2nd
There will be the usual 8.00 a.m. Communion Service, but no 10.45 a.m. Family Service, but instead at 3.30 p.m., we shall be holding our annual Christingle Service.
Christmas Eve, 24th
3.00 p.m. Crib Service 6.00 p.m. Nine Lessons and Carols
Christmas Day, 25th
9.30 a.m. Parish Communion
Sunday 30th
10.00 a.m. Benefice Communion Service at CLOPHILL
January Services 2019
Sunday, 13th
10.30 a.m. Joint Service at the Methodist Church
… All very welcome …
Our normal pattern of services is as follows:
First Sunday of each month:
08.00am BCP Communion
10.45am Family Service
Second Sunday of each month:
10.45am * Parish Communion
Third Sunday of each month:
10.45am * Morning Prayer
Fourth Sunday of each month:
10.45am * Parish Communion
Fifth Sunday of each month:
10.00am Joint Benefice Service held at Clophill, Haynes or Campton Churches.
* Occasionally we join with the Methodists at either church
Our church is warm – all ages are welcome and facilities and activities for children are available. For services structured specially for families and the young and for other extra or week-day services – see our monthly service calendar.
Coffee is served after our mid-morning services.